Il y a un jeune groupe que je suis avec attention depuis quelques années maintenant. Il s'agit de Gigmaker. Après un de leur concert au feu Gödör, j'ai fait connaissance des membres du groupe autour d'une bouteille de hàzi palinka dans un garage en sous-sol, la classe quoi !
Je vous invite à découvrir, en attendant leur premier album studio, leur single « Eladtam Magam » (« Je me suis vendu »)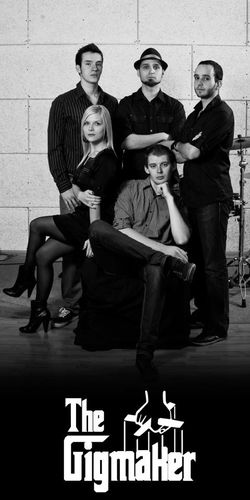 Hello and thank you for answering my questions. First, tell us a little about Gigmaker. When was the date of the creation of the group? In its current form or the other group experienced members?
Hi Michael. Thank you for the opportunity. The band was founded in the spring of 2009. After a few concerts our drummer left to Poland and we started to search for a new drummer. We started playing with Dani, our current drummer in the fall of 2009. He had a band with Ádám (guitar) and Netty (vocals) in the summer before. That's where we know him from. Right after he joined we got an opportunity to play in a local club, so we had an intense week of rehearsals. Since then, now for more than two years we have played together.

Where does the name Gigmaker means?
Gig means party or concert and maker is the person who does it. We thought of this name because our pop-music tends to be more powerful than one would think. Also the party atmosphere with live music is important for us also.

Let's talk about your music, I find it's hard to qualify your music and I feel that it is just one of the things that best characterizes the power switch from metal to funk almost in the samesong. How do you define yourself?
We just call our music pop-metal-funk. But this doesn't define it perfectly. The basic idea was pop based but we wanted to make it special. We respect all the "old" (but immortal) legends of music but also think that for success in todays music industry it is extremely important to give a special twist to music. Since all the boys in the group listen to metal music it has an influence on us also. Our two guitarists had a metal band together when they were in secondary school. Our bass player (Ricsi), guitar player and singer had a funk band before and parallel to Gigmaker. Our other singer (Gergő) had a punk/ska band before we got together. With all these influences it's hard not to want to put a little of everything in. But that's what makes music special, isn't it?

What are your influences?
We have many influences from the hungarian music scene and the international also. If we would have to name one band that everyone likes it would be the Foo Fighters. But we find Subscribe's music influential also because of the diversity they have in their music. A few more may be Jamiroquai, At the drive-in, Sikth, The mars volta, Turbo, and Fish!.

For our French readers unfamiliar with the Hungarian music scene, can you cite the influential groups in popular music at large Hungarian?
As I mentioned before Subscribe is a big band here in Hungary. But for us and for our generation some groups in the underground scene who play good music also are Turbo, Isten Háta Mögött, Fish! and 30Y.

Plans for the future?
We'd like to have a bigger concert this spring which is being organized. We also are making our first studio album little by little. We'd be happy to play at the big festivals in the summer and maybe have a tour with a bigger band in the fall.
Vous pouvez retrouver Gigmaker et son actualité sur Facebook ( https://www.facebook.com/gigmaker1 ) et sur leur site internet ( http://www.gigmaker.hu/ )